As recently announced, DSC Logistics is now CJ Logistics America. Stay connected with us on our new channels…
Website & email addresses
Our new website is cjlogisticsamerica.com. Several months ago we changed our email address domain; all of our email addresses have a suffix of @cjlogisticsamerica.com. At the end of May 2021, @dsclogistics.com email addresses will cease to be in service. Please update any applicable address books, account logins, auto-generated emails and processes accordingly.
New — we invite you to join us on Instagram!
Follow us on Instagram for the latest news, events, human interest stories and more – at CJ Logistics America and in the world of supply chain and logistics. @cjlogisticsamerica.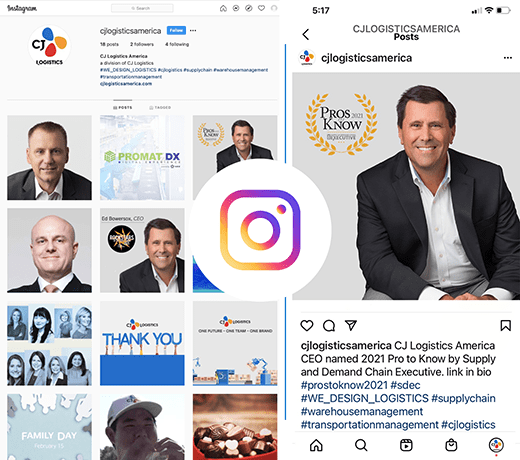 New LinkedIn, Twitter and Facebook pages
We've migrated all of our social media to new pages. Please find and follow us on Twitter, Facebook and LinkedIn.